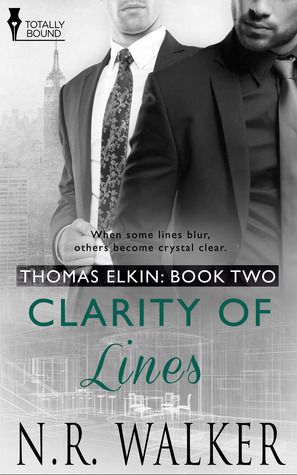 I love Thomas Elkin.

I let it be known to all that I love Thomas Elkin.

But when people ask why, it's hard to really explain. He's not this dashing alpha-male character who saves the world. He's not overtly charismatic or sexy in an obvious way. He's not the kind of character that people fangirl over and make collages and videos about.

He's just Thomas.

He's older. He's mature. He's established, successful. He's finding himself. He's letting himself find himself. He's navigating the many landmines of dating a younger man, a younger man who is friends with his son. He's reliable. He's flawed. He's witty. He's brilliant. Some might thing boring where I think steadfast. He's…so freaking dreamy…to me, at least. :)

Book 2 of this series just gives us more of Thomas…and for me, that would have been enough. But, since this is a romance between TWO characters, it also gives us more of Cooper. And surprisingly…that really worked for me too. Considering I wasn't entirely sold on Cooper after book 1, I'm…well…I'm warming up to him. :) I am mostly just happy to see Thomas happy…and in love.

I would suspect that if you don't love Thomas as much as I do (and really, NO ONE loves him as much as I do! :) ), the book might seem a cycle of some repetition: a bunch of smut, followed by introducing the relationship to a family member or friend, followed by a bunch of smut, and then another introduction of the relationship to a family member or friend, and then some additional smut…you get the picture.

But, I liked that smut. DAMN it was hot.

And I liked reading about how Thomas and Cooper met the challenge of their family and friends head on. And NR Walker then throws in a really emotional and difficult twist…that ties everything up so well. It brought the relationship between Thomas and Cooper into perspective…two men who love, need, and support each other…regardless of age.

If you're a fan of book 1, you will really enjoy this follow up.

If you like the May/December romance trope, give this series a try.

If you're a NR Walker fan, then duh…you're probably already reading it!